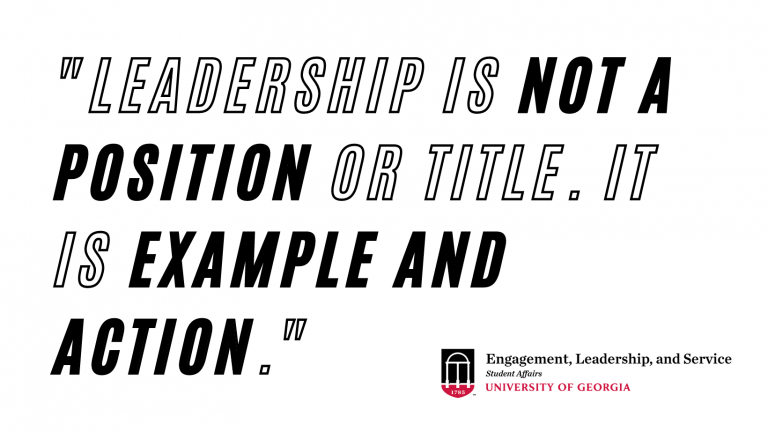 Leadership Week is a week-long opportunity to highlight and celebrate everyday leadership that takes place across our campus and within our community. While the concept of leadership may be defined differently across disciplines and contexts, Engagement, Leadership, and Service (ELS) holds four key beliefs about leadership: 
Leaders enact positive social change
Everyone has the ability to be a leader
Individual experiences and identities impact how we lead 
Leadership is an ongoing, developmental process
Leadership Week will take place on April 5-8th. Each day, engaging programming and activities will be provided to introduce students to leadership concepts in a nontraditional way. The majority of programs will be delivered in-person and in accordance with social distancing guidelines. Questions may be directed to Karis Hill at karis.hill@uga.edu.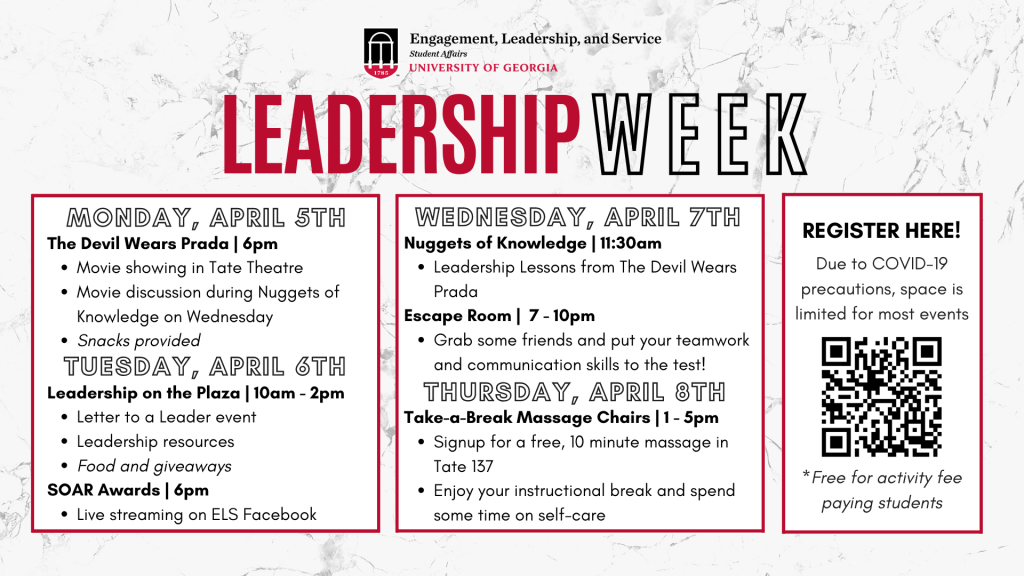 Frequently Asked Questions
We do not have a general registration link, but you can sign up for the events you are most interested in by clicking the buttons above (if an event does not have a signup button, pre-registration is not required to participate).
Leadership Week is completely FREE of charge to student activity fee-paying students!
We are committed to taking measures to help ensure the safety of the students and staff participating in this experience. These are some of the precautions we are taking: 
All university COVID-19 and social distancing policies will be enforced.

Masks will

 be required 

by staff and participants

throughout the duration of the event. 

 

QR Codes will be used during event check-in to minimize contact.

Designated individuals will be present at all events to ensure proper sanitization between participants.