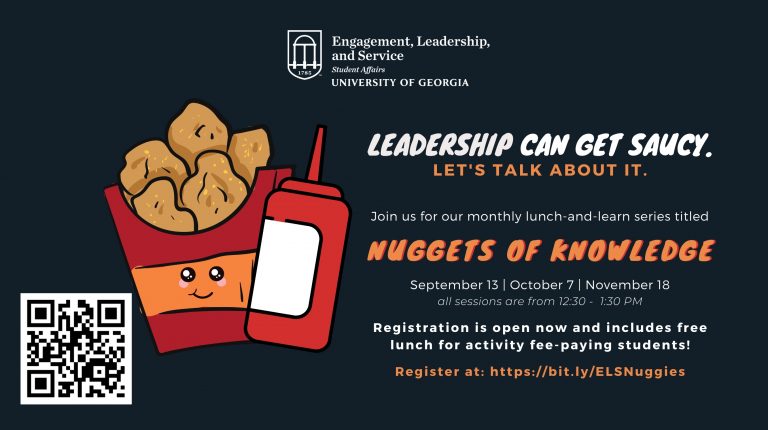 Nuggets of Knowledge is a monthly lunch-and-learn series that provides students with bite-sized leadership development opportunities. These hour-long sessions will introduce the concept of leadership and utilize guest speakers from across campus to provide diverse perspectives on each topic. Students attending these sessions will have the opportunity to engage with their peers and as well as staff within the Division of Student Affairs. 
Registration for Nuggets of Knowledge is now open! Please note that space is limited for in-person attendance during each session to ensure we are maintaining campus policies surrounding social distancing. 
Registration for Nuggets of Knowledge is FREE and lunch is provided to each in-person participant. Vegan and vegetarian options will be available. Can't attend in person? That's okay! Each session will be live streamed via Zoom to allow you to join us from wherever you are. 
Please reach out to Karis Hill at karis.hill@uga.edu if you have questions. 
Fall 2021 Dates & Topics
September 13th | After the Engagement Fair: Choosing the Right Involvement Experiences
October 7th | Stress Management for Student Leaders and the Importance of Self-Care
November 18th | Culturally Responsive Leadership & Intercultural Competence
Please note that all sessions* will take place in the Tate Student Center Reception Hall.
*The November session will take place in Memorial Hall.