Collegiate Leadership Conference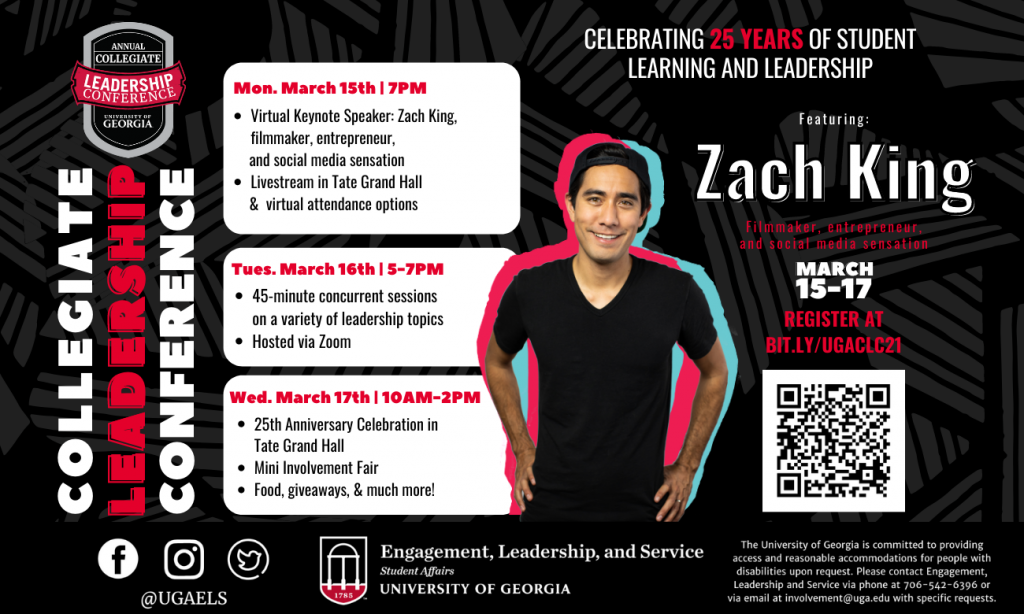 Collegiate Leadership Conference (CLC) is a leadership conference hosted by Engagement, Leadership and Service (ELS) at the University of Georgia. CLC is designed to provide leadership development opportunities for emerging, as well as seasoned leaders. The 25th annual Collegiate Leadership Conference will be hosted in a hybrid format on March 15-17, 2021.  
CLC 2021 Schedule
Monday, March 15
Virtual Keynote & Q&A with a special guest Zach King, 7pm via Zoom & Livestream in Tate Grand Hall

Zach King – the LA based filmmaker known for his clever magic tricks and "digital sleight of hand", is one of social media's most prominent content creators. With a combined social reach of over 75 million followers, Zach's magical content has delighted fans all over the world. Zach has been featured on Good Morning America, Adweek, and People. His company, King Studio, has partnered with brands such as Disney, Apple, Nike, Coca-Cola, and many others. Recently, Zach has expanded onto the TikTok platform, where he has seen incredible growth. At over 50 million followers, he's currently the third most followed account in the world.
Pre-registration required
Livestream includes free pizza for student activity fee-paying students with valid UGACard. Limited seating available so be sure to register in advance.
You can view the recorded keynote and Q&A with Zach King on Kaltura before April 17, 2021.
Tuesday, March 16
Concurrent virtual presentations* at 5pm, 6pm, and 7pm via Zoom
Topics include peer leadership, cultivating effective teams, fundraising fundamentals, inclusive leadership, building community, virtual programming, and more. For full presentation descriptions, check out the CLC 2021 Program.
Pre-registration required
Wednesday, March 17
Tate Grand Hall, 10am-2pm
Join us as we celebrate 25 years of CLC at UGA with a mini involvement fair, free giveaways and more. Students who participate in the keynote and at least one virtual presentation will receive a free t-shirt at the celebration.
Questions about Collegiate Leadership Conference can be directed to ugaclc@uga.edu. 
Frequently Asked Questions