Collegiate Leadership Conference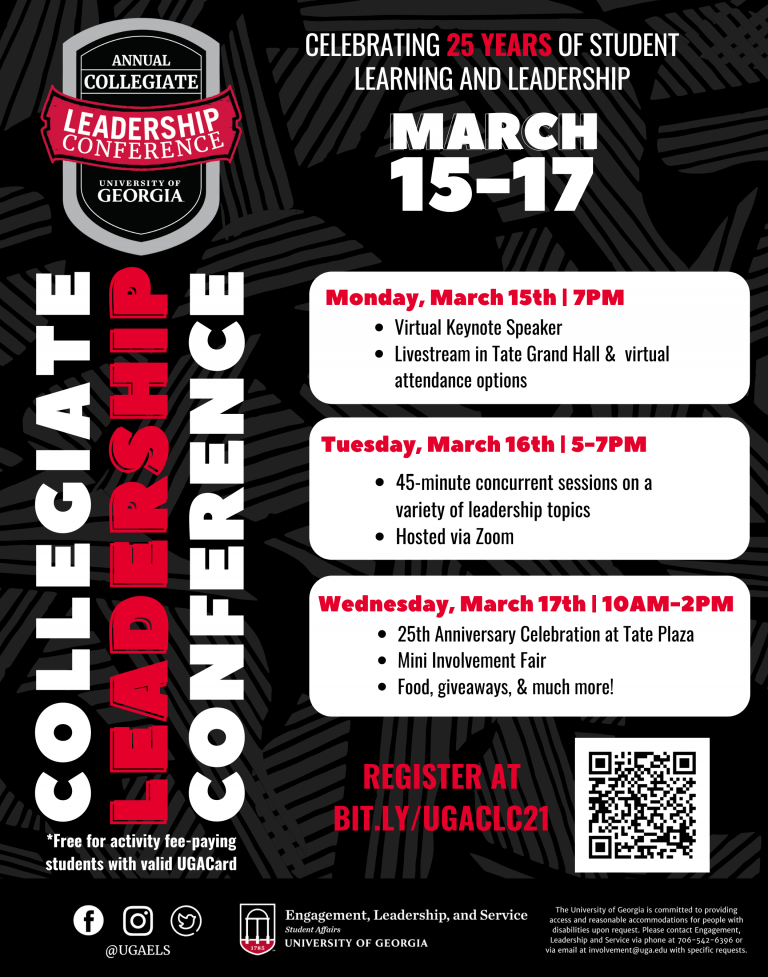 Collegiate Leadership Conference (CLC) is a leadership conference hosted by Engagement, Leadership and Service (ELS) at the University of Georgia. CLC is designed to provide leadership development opportunities for emerging, as well as seasoned leaders. The 25th annual Collegiate Leadership Conference will be hosted in a hybrid format on March 15-17, 2021.
CLC 2021 Schedule
Monday, March 15
Virtual Keynote Speaker, 7pm via Zoom & Livestream* in Tate Grand Hall
* Livestream includes free pizza! Limited seating available so be sure to register in advance.
Tuesday, March 16
Concurrent virtual presentations at 5pm, 6pm, and 7pm via Zoom
Wednesday, March 17
Leadership on the Plaza, 10am-2pm, Tate Plaza – Join us as we celebrate 25 years of CLC at UGA!
Students who participate in the keynote and at least one virtual presentation will receive a free t-shirt at the Plaza celebration!
Questions about Collegiate Leadership Conference can be directed to ugaclc@uga.edu.
Frequently Asked Questions