The ELS is proud to host special events throughout the year ranging from championship watch parties, outdoor film screenings including in Sanford Stadium, late-night and alternative programs, and other various experiences. For updated information, follow ELS on Instagram, Facebook, and Twitter (@UGAengagement).
The ELS department and UHC Health Promotion are thrilled to present Take a Break Days! These days are full of events to offer you relaxation and fun over instructional break days. Reservations are required for some events. Make sure to check out each individual event below for full details.
Wednesday, February 17
10AM | Yoga Break | Join a University Health Center registered dietitian and yoga instructor in an all-level yoga class. | Register at: bit.ly/ugatabyoga

11AM – 1PM | Paint Take & Make | Stop by the Tate first floor information desk to pick up a paint kit with full instructions. 

2PM | Take 10@2 | Attend a mindfulness session facilitated by University Health Center staff for a quick break during the day.


Join at: http://bit.ly/ugatab10
Friday, March 12
Thursday, April 8
Film on the Fifty is a tradition in which students have an opportunity to go "between the hedges" of Sanford Stadium and sit on either the field or in the stands and watch a movie on the Jumbotron. Though enjoyed by all students, Film on the Fifty is a tradition especially memorable for graduating seniors as they cherish their final days on campus and think back to the moment they were first united between the hedges at Freshman Welcome.
Frequently Asked Questions
National Championship Watch Party - January 10, 2022
Join us in cheering on the Bulldogs at the National Championship Watch Party in Stegeman Coliseum!
Capacity for this event is 5000. Attendees are strongly encouraged to wear a face mask inside campus facilities including Stegeman Coliseum. UGA also strongly encourages members of the University community to be vaccinated and receive a booster.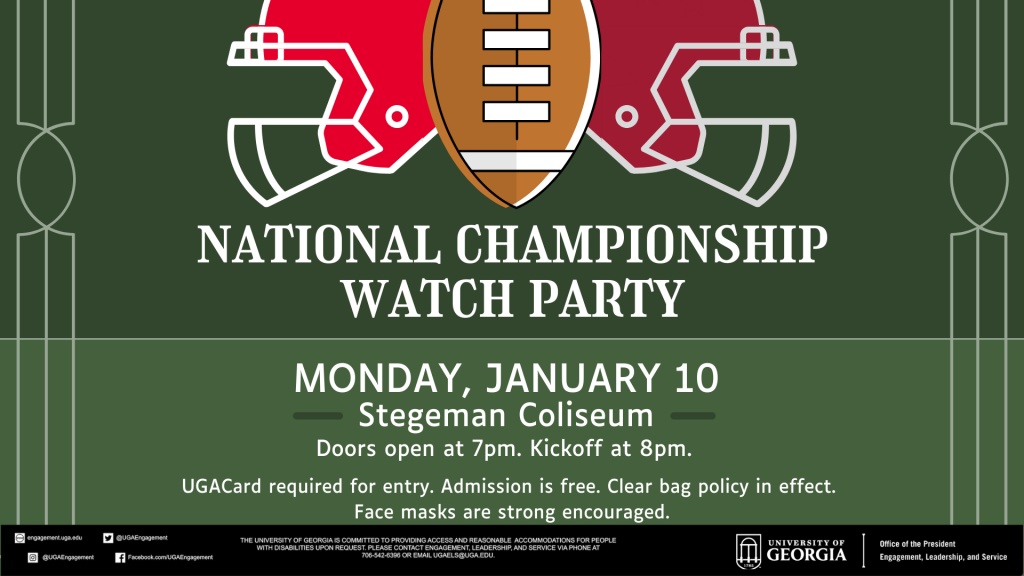 Frequently Asked Questions