Asian American Student Association at UGA receives top student organization award
Asian American Student Association at UGA was named "Organization of the Year" during the 21st Annual H. Gordon and Francis S. Davis Student Organization Achievement and Recognition Awards, given out April 12 at the Tate Student Center. The SOAR Awards celebrate the accomplishments of student organizations at the University of Georgia.
Asian American Student Association is a registered student organization that focuses on developing unity within the Asian American student community on campus. AASA strives to promote the ideals of multiculturalism and create more connections among their members by hosting large events such as their incredible Lunar New Year Celebration and APIDA Night Market.
This year, the Asian American Student Association had one goal in mind: to rebuild a fragmented community to recover from the social consequences of COVID-19 such as the uptick of hate crimes against Asian Americans. Not only did they accomplish unifying Asian American students, but they worked alongside other student organizations. The AASA holds an annual "Identity General Body Meeting" where this year they partnered with the Hispanic Student Association and the Indian Cultural Exchange. Nearly 300 members collectively participated in the meeting. Through engaging activities, students where able to express their feelings in tandem to their held identity. They were also able to have large scale discussions on their own cultures and issues that they each face being a college student. In addition to the Organization of the Year Award, the AASA along with HSA and ICE were also all awarded the Organizational Collaboration Award.
Other award categories and their recipients are as follows:
Most Innovative Program: Black Male Leadership Society for taking its "Talk with BMLS"program to new heights by inviting other student organizations.
Organizational Improvement: Psi Chi the National Honor Society in Psychology forassessing the needs of their general body by reimplementing general body meetings featuring guest speakers, adding on professional development opportunities, and hosting more social events for their members.
Organizational Collaboration: Asian American Student Association, Indian Cultural Exchange, and Hispanic Student Association for co-hosting their "identity general body meeting."
Outstanding Campus Event (Small): Dodd Ambassadors for organizing the Dodd market, a free opportunity for students to sell their art while inviting the UGA and Athens community to engage with students.
Outstanding Campus Event (Large): Serve UGA for its partnership this last fall with over 20 sites, 1,013 volunteers, and a total of 2,533 hours of service.
Outstanding New Organization: Capture! for not only spearheading the club and hosting industry guest-photographers, but by partnering with other organizations to provide photos.
Commitment to Social Justice: Period Project at UGA for their Project Red initiative that looks to install free menstrual product dispensers throughout UGA's all-gender bathrooms with the hopes of ending period poverty and stigma.
Outstanding Cross-Cultural Program: Hispanic Student Association for holding various collaborations with other identifying student organizations in efforts to both learn about other cultures and share about their own.
Outstanding Service to the Community (Small): Special Pops Tennis for its efforts in create a space for individuals that might identify as being disabled to engage not only in physical activity but build community.
Outstanding Service to the Community (Large): MEDLIFE at UGA for their work with 15 different organizations, 760 service hours and hosting numerous donation drives.
Excellence in Marketing and Communications: Miracle for effectively promoting their Beyond Limits event, raising over $200,000, and increasing their engagement on their Instagram page.
Pillar of the Community: Sloane Sengson is a Health Promotion and Behavior major, double minoring in Disaster management and Health Policy. Shortly after the COVID-19 pandemic hit, Sloane joined the Medical Reserve Corps and countless other organizations to devote her time and energy to serve the Athens community.
Commitment to Peer Mentorship: Marillyn Heigl is a third-year student who served as a peer mentor for the first-year program, Connect. Marillyn displayed a deep passion and love for mentorship shown clearly in the way she led her Connect small group.
Advisor of the Year: Christina Lawler, advisor for Miracle, who helped the student leaders restructure their organization financially and functionally to better serve their mission.
Candice Sherman Emerging Leader: Ashley LaPrade from Women in Finance
Bulldog Vision: Sarah Landmesser of Dodd Ambassadors
In addition to the awards, Pandora Yearbook named its annual "Outstanding Senior Leaders" during the SOAR ceremony. Students recognized include:
May Hu, management information systems and international business.
Emma Jones, Spanish and psychology.
Julia Lance, dietetic.
Abiseniya Lemma, international affairs.
Carter Marks, business management and economics.
Kevin Nwogu, business management.
Sloane Sengson, health promotion.
Quinn Shelt, political science.
Jaaie Varshney, political science and women's studies.
Suvitha Viswanathan, biology.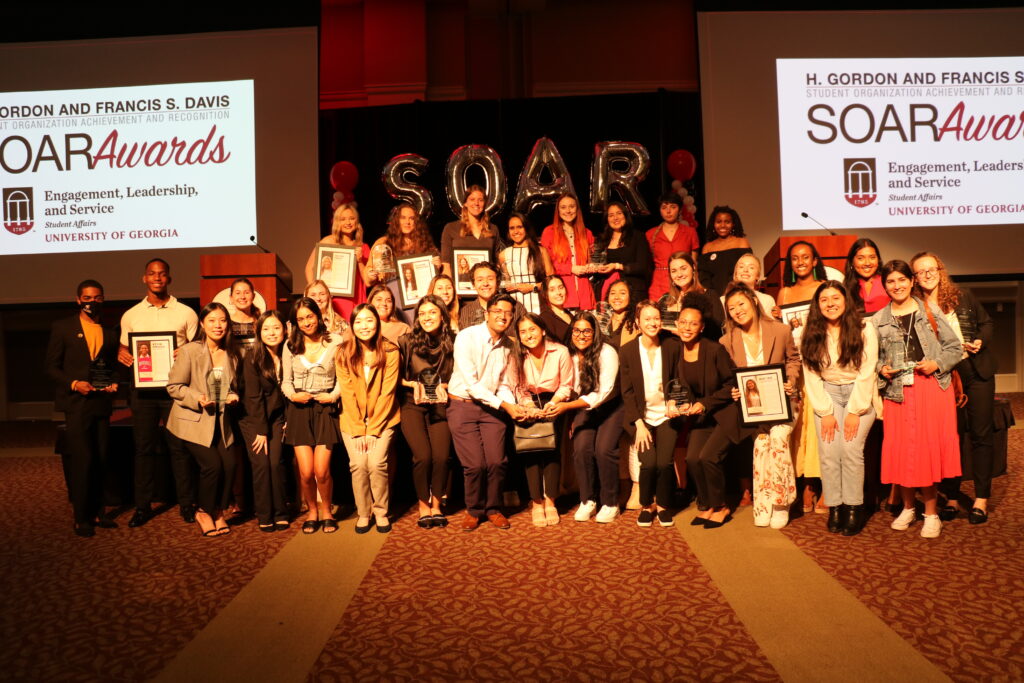 This year, over 130 nominations were judged by a panel of faculty and staff members.
There are currently 775 registered student organizations on campus.
The awards are sponsored by Engagement, Leadership, and Service. For more information, see http://els.uga.edu.
Written by Amber George, Assistant to the Dean of Students for Marketing and Communication