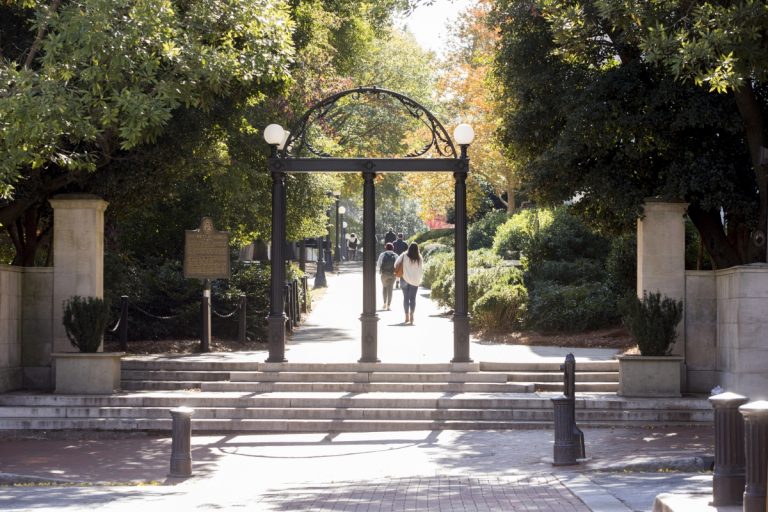 Leadership UGA, established in 1985, is a cohort-based program providing first- and second-year UGA students the opportunity to develop their leadership skills, interact with campus and community leaders, and become more aware of the social issues facing our campus, community, state, nation, and world.
The program emphasizes community, integrity, active citizenship, life-long learning, interculturalism, responsibility, and collaboration. Through interactive discussions, speakers, and workshops, students will learn and explore stories about individuals that have made an impact in their community and the ways in which they can do the same in their future communities. Participants will gain a better understanding of their values, a commitment to serving their community, and an understanding of one's self and others. Leadership UGA is made possible by the generous support of the Richard B. Russell Foundation.
Program Requirements
Must be a full-time 1st or 2nd year student at UGA

Demonstrate interest and commitment to growing as a leader

Able to attend all weekly meetings on Thursdays from 6:30 – 8 PM (beginning September 9th and concluding on December 2nd) and the Learning-in-Action session on Saturday, September 25.
Program Benefits
Meet and work alongside other UGA students who share similar interests and passions for leadership and making a positive impact in the local and state communities.

Learn about yourself and who you are as a leader, as well as how to lead with others.

Participate in meaningful opportunities to learn more about challenges and opportunities facing both Georgia and Athens, and how leaders are creating innovative solutions to address them throughout the state and locally.
Program Tracks
For the 2021-2022 year, Leadership UGA will offer one program track during the Fall semester. Please see below for more information about our current program track offering.
Leadership UGA: Emerging Leaders
Who: Any first or second-year, full-time UGA student who has never participated in Leadership UGA

When: Leadership UGA: Emerging Leaders will meet every Thursday evening from 6:30-8:00pm for 10-weeks. The program is offered in both Fall and Spring semesters.

Where: Fall 2021 meetings will take place in-person in the Tate Student Center.

What: The Emerging Leaders track of Leadership UGA is specifically designed for students who are interested in learning more about their own personal leadership development, and how to lead well with others. This program focuses on giving students the skills and opportunities to grow personally and professionally, and prepare to be a leader in the UGA and Athens communities in the future. Students who participate in this program will have a chance to meet and network with other UGA first-year students, older UGA student leaders, and various Athens community leaders. Each week, professional UGA staff members will facilitate workshops and activities. After completion of the Leadership UGA: Emerging Leaders program students will have the skills and tools to be an active member of the UGA community.

How: Sign up on the Involvement Network by September 1st at 11:45pm.
Interested in finding out more information about the Leadership UGA program? Join us for an interest session to see if this is the right opportunity for you! Registration for the information sessions is located on the Involvement Network:
Info Session #1 (Virtual): Thursday, August 26th @ 5pm on Zoom
Info Session #2 (In-person): Wednesday, September 1st @ 6pm in Tate 137
Signup for Leadership UGA: Emerging Leaders is on a first-come, first-served basis. Signups launch on Wednesday, August 18th at 8 AM! Have questions? Please contact Karis Hill at karis.hill@uga.edu.