Annual Student Leadership Conference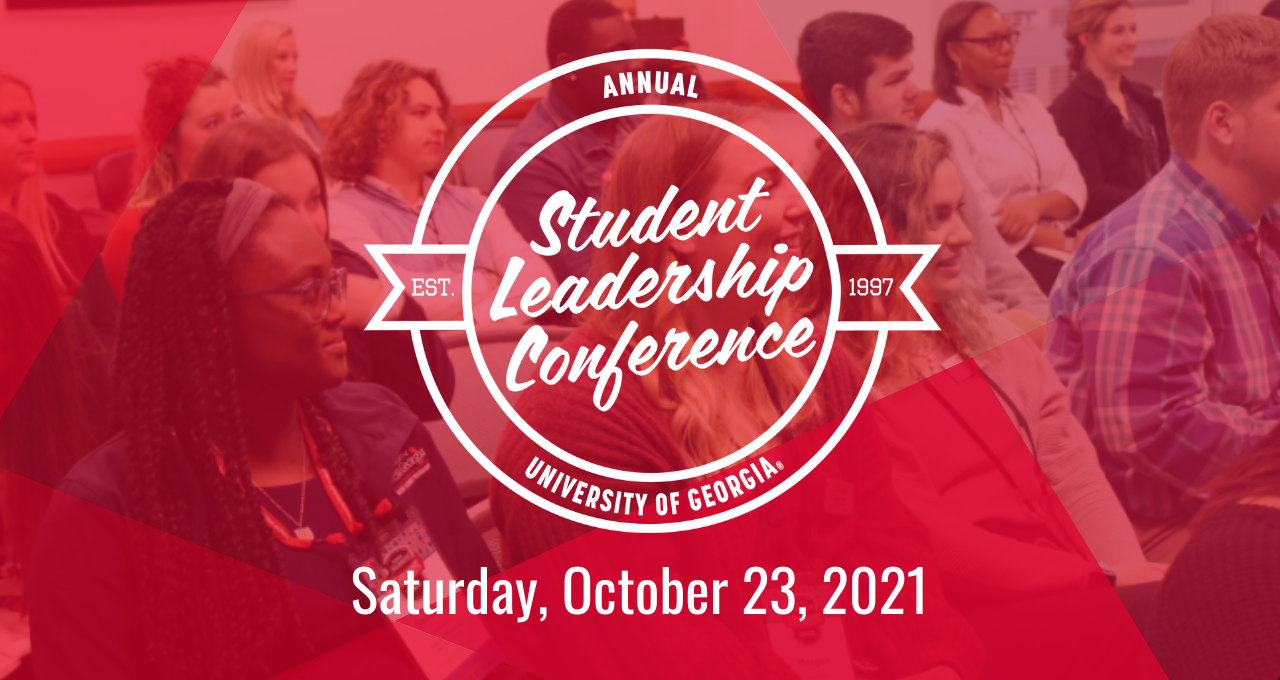 The Student Leadership Conference (SLC) is hosted annually by Engagement, Leadership and Service. SLC is designed to provide leadership development opportunities for both emerging and seasoned student leaders, regardless of holding a formal leadership role #NoTitleNeeded. The Student Leadership Conference will be hosted on Saturday, October 23, 2021 and is free for all student activity fee-paying students. The first 150 students registering for the conference will receive a free t-shirt!
9:00 – 9:30am – Check-in, Tate Student Center 5th Floor
9:30 – 10:30am – Opening & Keynote, Tate Grand Hall
Featuring Dr. Leslie Nwoke
10:40 – 11:25pm – Presentation Block 1, Tate meeting rooms
11:30 – 1:00pm – Lunch with Leaders Panel, Tate Grand Hall
1:00 – 1:15 – Break
1:15 – 2:00pm – Presentation Block 2, Tate meeting rooms
2:10 – 2:55pm – Presentation Block 3, Tate meeting rooms
3:00 – 4:00pm – Closing Social, Tate South Lawn 
Music, door prizes, and more!
Presentations may fall into, but are not limited to, the following tracks:
Personal leadership
Collaborative leadership
Community leadership
Equity, Diversity, and Inclusion
Personal well-being
Call for Presentations

Have leadership lessons to share? Want to sharpen your public speaking skills? Consider submitting a presentation proposal!

Individual and group proposals by faculty, staff, and/or students will be accepted through Friday, September 24, 2021 at 11:59pm.
Previous Presentation Topics
To view last year's conference program, visit the link below.
Civic Engagement

Communication

Diversity & Inclusion

Emotional Intelligence

Ethical Decision Making

Group Dynamics

Legacy Building
Mentorship

Motivation

Event Planning & 

Risk Management

Self-Care & Stress Management

Service-learning

Tradition vs. Innovation

Transition Tips

Transferable Leadership Skills
Meet the 2021 SLC Keynote Speaker

Dr. Leslie Nwoke is a physician and executive coach. She is also the founder and CEO of HeartWork Now, the online learning and personal development platform. Dr. Leslie has a diverse background in medicine, global health, and nonprofit leadership. She is passionate about helping leaders become self-aware, resilient, and emotionally intelligent.

From YouTube stars to millennial entrepreneurs, this generation is changing the norms of leadership. The most effective of them realize, that leading well, means engaging not just your head, but your heart. Emotional intelligence is the process of becoming self-aware by engaging our challenging and messiest emotions and choosing to face them bravely. Dr. Leslie will share ways to be a more conscious and emotionally intelligent leader, and leave listeners with three big ideas on how to face the difficult parts of themselves head on.