Being an engaged member of your community is a task that takes a lifetime.
You are a member of many communities.  These groups consist of your neighbors, colleagues, classmates, and other social units where you share common values, history, culture, or other characteristics.  As a student at the University of Georgia, your education prepares you to engage fully to create meaningful change.  While many individuals don't feel responsible for their community, you can make the choice to lead and engage actively in your community.
Your voice and your vote matter in every election: federal, state, and local. You can make a difference by registering to vote and using your right to vote.  
Below are the results from the 2012 and 2016 UGA voter turnout from NSLVE. The 2020 presidential election results have not yet been published for UGA. You can affect the registration and voting rate for the next presidential election! Encourage your friends and classmates to vote.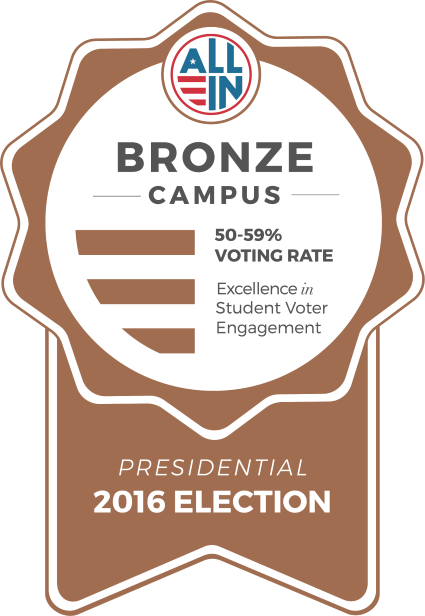 Voting Eligibility
Additional Questions
Voting Eligibility
Am I eligible to vote?
If you are 18 years of age and a U.S. citizen, you are eligible to vote in local, state, and federal elections. You must not be serving a sentence for conviction of a felony involving moral turpitude.
You are required to have a valid photo ID, including a driver's license, passport, or voter identification card.
When can I register to vote?
Anytime! Just make sure to register by the deadline in your state to be eligible to vote in the next election.
Additional Questions
Register to Vote in Georgia
Georgia Voter Online Registration
Georgia Voter Mail Registration
Download and complete the postage-paid voter registration application and mail it to the Secretary of State's office.  
Copies of mail-in registration forms are also available in Engagement, Leadership, and Service.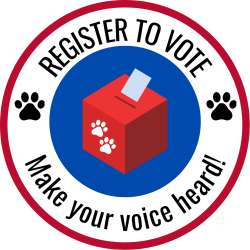 Any valid state or federal government-issued photo ID, including a free ID card issued by your county registrar's office or the Georgia Department of Driver services.
A Georgia driver's license, even if expired
Student ID from a Georgia public college or university
Valid employee photo ID from any branch, department, agency, or entity of the U.S. government, Georgia, or any county, municipality, board, authority, or other entity of the state
Valid U.S. passport ID
Valid U.S. military photo ID containing a photograph of the voter
Valid tribal photo ID containing a photograph of the voter
Bring one of these seven forms of identification to vote in person.
Register to Vote Out-of-State
If you are not from or voting in Georgia, use 
howto.vote
 to find information for your home state.
The ballot lists the items for which you can cast your vote.  You are not required to make a choice for each item on the ballot.  Rather, any vote you cast will be counted.  If you vote in Georgia, visit the Secretary of State's website to view a sample ballot for your county.  
Even if you have voted before, it is good to plan ahead by preparing a plan.  Run through the checklist below to plan to vote.
Research the ballot and my voting location.  If I am voting by absentee ballot, what is the deadline to request it?
Take off work and/or find childcare.  What transportation will I take to my voting center?
Check the policies in my state.  What ID do I need to bring?
Should I pack water, snacks, medication, an umbrella, a jacket, and any important supplies in case there is a line?
Advance or Early Voting is available if it would be difficult or impossible for you to vote on Election Day.  Advance Voting locations may also be less crowded!  However, Advance Voting locations may be different from where you vote on Election Day.  Check the sites for your county to learn more.
If it is not possible or inconvenient for you to travel to your polling place during Advance Voting or on Election Day, Absentee Ballots may be available for you to request.  You can request these ballots online or through the mail, and they will be mailed to your temporary address.  After filling them out, there is typically a deadline associated when they are due back to the county office.  Plan ahead if voting by Absentee Ballot, because the mail is not instantaneous!
Election Day is November 8 each year, and there should be various polling locations in your local area.  If you did not vote using one of the above methods, vote on Election Day!
You can also opt in to receive election reminders from TurboVote to ensure you practice your right to vote in each election.
Practice Civic Engagement
Voting is just the start of creating a better future!  Civic engagement also includes learning more about your community, its needs, and your neighbors.  A great way to engage is by volunteering, and practicing leadership skills while learning about issues which affect your community.
Volunteer in your Community
Find a volunteer opportunity through Serve UGA, Give Pulse, the Involvement Network, and other websites.
Develop Leadership Skills
Being able to disagree with someone else while remaining civil is a foundational skill for creating change anywhere.  Learn important skills like this through ELS's leadership programs.