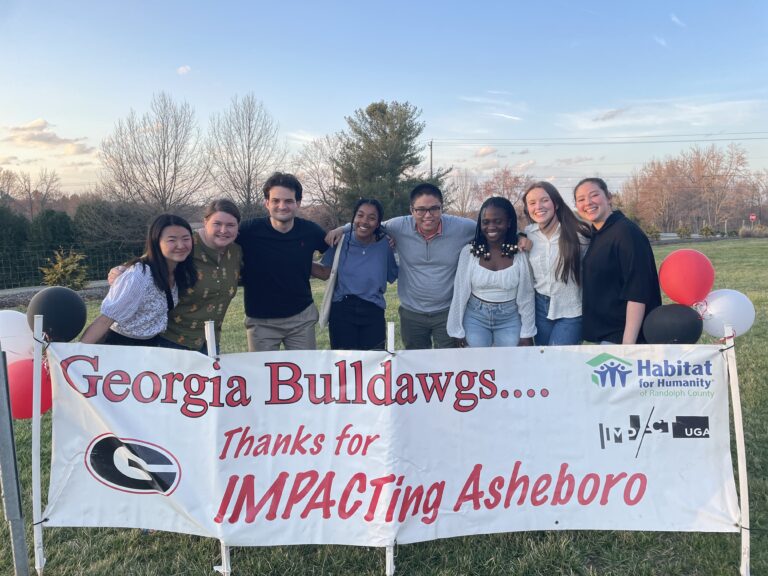 The mission of the IMPACT program is to engage University of Georgia students in an affordable, week-long, substance-free, experiential service learning project that encourages an understanding of pressing social issues in a significant way. It is the goal of the organization to address community needs through direct and indirect service as well as provide students the knowledge of social issues in our own country. By providing new perspectives and hearing the stories of others, participants gain invaluable experiences that bring us together.
IMPACT, formerly Alternative Spring Break (ASB), began at UGA in 1994 with a group of students interested in spending the week of spring break engaged in community service as opposed to the more traditional past-times of college spring break. Since the beginning of the program, over 3,000 UGA students have participated in our service break trips and traveled across the United States to participate in meaningful service projects that benefit the communities in which they work. Each year the program continues to grow in size and popularity.
As a result of participating on an IMPACT trip, students will be able to:
Articulate a service perspective that addresses the roles of reflection, dialogue, education, and indirect service 
Identify connections between their social identities, their service experience, and underlying social issues
As a result of leading an IMPACT trip, student Site Leaders will be able to: 
Demonstrate an understanding of the concepts of power, privilege, and oppression connected to a service-learning context
Demonstrate awareness of one's social location (i.e., positionality and intersection of social identities)
Articulate how race, class, and gender intersect with one's respective trip focus
Demonstrate leadership ability through leading dialogues with peers about social issues, planning a service-learning trip, and applying risk management protocol 
Check back soon for more information about our Fall Break trips & site leader application process!